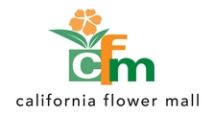 LA Flower District California Flower Mall Open 24 Hrs: Valentine's Discount Business Blooming With DIY Insider Tips
LOS ANGELES, CA--(Marketwire - February 9, 2011) - Learn how to buy discount Valentine's flowers up to 70% off retail and online prices with insider tips from The LA Flower District California Flower Mall. Do it yourself Valentine's flower shoppers feel the love tingling as their pockets are jingling with big savings on Valentine's rose, flower and plant gifts available round the clock at California Flower Mall -- the Downtown Los Angeles Flower Market will be open this Friday and Saturday from 4am-11pm, and from 4am on Sunday until 6pm on Monday, Valentine's Day, February 14, 2011.
Mark Chatoff, Owner and President of LA Flower District California Flower Mall, one of the larger flower markets located on San Pedro and San Julian Streets, clarifies the evolving dynamics of LA's unique floral hub, "The LA Flower District has grown in the past six years. For much of the last 100 years, the local flower trade was dominated by two large markets on Wall Street. But the industry has pushed out beyond its historical confines, stunningly transforming our industrial neighborhood in the Southeast corner of Downtown, and, now spans nearly eight blocks. The expanded LA Flower District is a:
Colorful urban destination lush with miles of flower market aisles and sidewalks bursting with beautiful fresh flowers that dazzle the senses.
Paradise for procrastinators buying Valentine's blooms at the last minute.
DIY way to stretch Valentine's rose, flower and plant gift budgets, and
California Flower Mall is the only downtown LA flower market in the LA Flower District open late hours and all night before Valentine's Day supplying floral professionals and the public with wholesale and discount Valentine's flowers."
Chatoff added, "Wholesale and discount flowers are perfect for folks that must keep Valentine's Day spending in check due to the down economy, DIY bargain bud hunters or those spreading the love with a long Valentine's flower gift list. Check the California Flower Mall website for tips on how to make DIY $5 - $20 Valentine's bouquets using  2011 Valentine's flower and design trends that look like you spent $70 - $100."
Use these DIY insider tips to shop the Los Angeles Flower District like a floral pro:
Arrive Early -- Shop before 7am for the best deals, selection and parking. Farm deliveries arrive around 3am, by 4:30am California Flower Mall is buzzing with customers.
Weekend Arrival -- Shop before 7am or after 6 pm, on Valentine's weekend to beat crowds and traffic. Valentine's Day is the second busiest wholesale flower week of the year.
Bargain -- Don't accept the first price offered. Negotiate -- It's an accepted business custom.
Thrifty Favorites -- Every flower is beautiful so you can't make a mistake. Choose a mixed bouquet with short stemmed roses in colors other than red. A dozen carnations, gerberas, or, tulips often sell for $3.50 - $7.
Relax -- If DIY is not your style or you're on a tight schedule, pre-made Valentines bouquets and arrangements are sold for $15 - $30 to delight the loves of your life.
Closeouts -- Wholesalers slash prices to clear remaining flowers in stock on Valentine's Day 2 - 6pm. Bargain bud hunters beware favorites may be sold out.
Society of American Florists research shows while men buy mostly for romantic reasons, women use Valentine's Day as an opportunity to show they care to mothers, daughters, aunts and friends, as well as their sweethearts. Women even treat themselves on Valentine's Day. 25% of adults purchased flowers or plants as gifts for Valentine's Day 2010; of those, 60% were men and 40% were women. The National Retail Federation economic forecast is rosier this year, reporting that 34% of consumers plan to spend 9% more -- a total of $1.7 billion -- to celebrate the 2011 holiday with flowers.
About CFM
The LA Flower District California Flower Mall is a premier 45,000sf wholesale flower market in the eight-block Downtown LA Flower District -- the largest wholesale and discount flower district in the U.S.
Mark Chatoff is Owner and President of The Los Angeles Flower District California Flower Mall, a founding member of the Downtown Los Angeles Property Owners Association and Chairman of The LA Fashion District Business Improvement District.